The weasel animal usually eat the ripe coffee fruit from the trees. Then they excreted intact beans. Coffee beans pass through the digestive tract of weasel and a special smell of the beans is created in the fermentation process by the main enzyme secreted by gastric in stomach of the weasel. The price of this coffee is very expensive due to a small output from the animal. Therefore, we combined the coffee with from scientists created probiotics like enzyme in the stomach of weasel. This coffee will impress you from the first time of drinking.
Packing:
1 vacuum pack of 250 gram
Payment
We accept PayPal and Bank Wire. In case you don't have a PayPal account, just use your Credit or Debit Card. It's super easy: After you went through the Checkout Process, you get redirected to the PayPal Page, there just choose "Don't have a PayPal account?", submit your card details - that's all.
Worldwide Delivery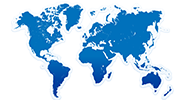 We ship worldwide, to any country by registered Airmal Service. After your order has been shipped, we will email you a link with your tracking number. You can follow up on the delivery process. It takes usually 10 business days. Shipping to some countries may takes long due to delays caused by your country's Customs. For detailed information please check our Frequently Asked Questions.