Ecosip Sheng Chun Herbal patches are made of herbal ingredients. The herbal patches are for temporary relief of minor aches of muscles and joint associated with simple backache, arthritis, strains, bruises and sprains.
Sheng Chun Herbal patches does not contain any chemical ingredient. Ecosip patches are very well tolerated by your skin. You can easily cut them in half to fit onto a variety of ailing areas.
Application: 
First, clean the affected area. Peel off the film and cover the affected area with the patch. Keep on for 8 hours, not longer.
Do not use more than 3 patches a day and not use more than 7 consecutive days. Not recommended for children under 2 years old and pregnant womans.
Ingredients:
10.0mg Methyl Salicylate
30.0mg Myrrha
30.0mg Bletilla Rhizome
30.0mg Radix Rhapontici (Lou Lu)
30.0mg Flos Carthami (Hong Hua)
30.0mg Cimicifuga Rhizome (Sheng Ma)
30.0mg Radix Ampelopsis (Bai Lian)
30.0mg Radix Et Rhizoma Rhei (Da Huang)
30.0mg Fructus Gardeniae (Zhi Zi)
30.0mg Radix Glycyrrhizae (Gan Cao)
30.0mg Indigo Naturalis
30.0mg Zinc Oxide
40.0mg Aloe Vera
40.0mg Menthol
410.0mg Resin
Indigo Carmine, Tartrazine, Sesame Oil
Expiry: 
3 years from manufacturing date
Packing:
1 pack of 5 patches (7,5cm x 10cm)
Payment
We accept PayPal and Bank Wire. In case you don't have a PayPal account, just use your Credit or Debit Card. It's super easy: After you went through the Checkout Process, you get redirected to the PayPal Page, there just choose "Don't have a PayPal account?", submit your card details - that's all.
Worldwide Delivery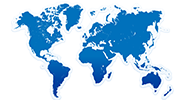 We ship worldwide, to any country by registered Airmal Service. After your order has been shipped, we will email you a link with your tracking number. You can follow up on the delivery process. It takes usually 10 business days. Shipping to some countries may takes long due to delays caused by your country's Customs. For detailed information please check our Frequently Asked Questions.